Strawberry Shortcake with Biscuits
A twist on the classic Strawberry Shortcake with biscuits instead of cake! Easy-to-make homemade biscuits serve as the perfect base for juicy, syrupy strawberries, topped with a dollop of whipped cream.
While you're here be sure to try this Old Fashioned Banana Pudding and these Caramel Apple Empanadas!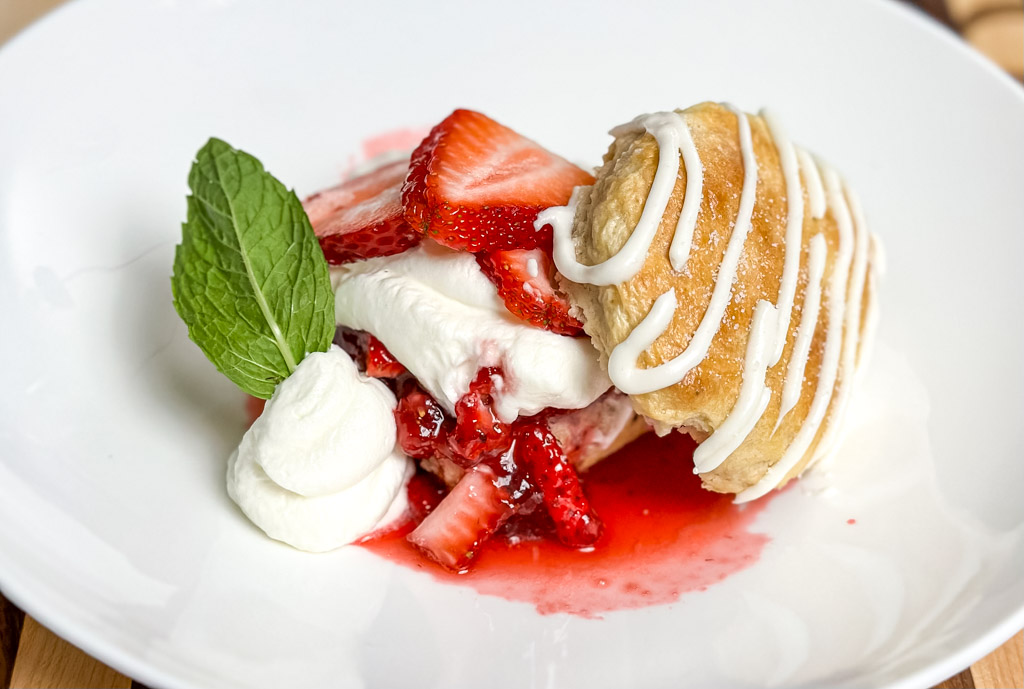 Perfect for dessert, brunch, or any occasion. This strawberry shortcake recipe will leave everyone asking for seconds. Try it today!
What is Classic Strawberry Shortcake
Classic strawberry shortcake is a dessert made with a shortbread sort of cookie or cake base, topped with whipped cream and fresh strawberries. It is a classic summer dessert that is sweet, refreshing, and easy to make.
Sometimes, strawberry shortcake is also served with other fruits such as blueberries, raspberries, or peaches.
Biscuits are the perfect base
You will love the biscuits in this shortcake recipe. They are a classic and an essential element to sop up the juicy sweet strawberries.
The biscuits are made from flour, sugar, butter, and milk or cream. Then the dough is rolled out and cut into rounds or squares before being baked to golden perfection.
The resulting biscuit is tender and fluffy, with a slightly crumbly texture that complements the sweet and juicy strawberries and whipped cream in this dessert. Overall, the biscuits provide a satisfying and buttery base for the fresh and fruity flavors of the strawberry shortcake.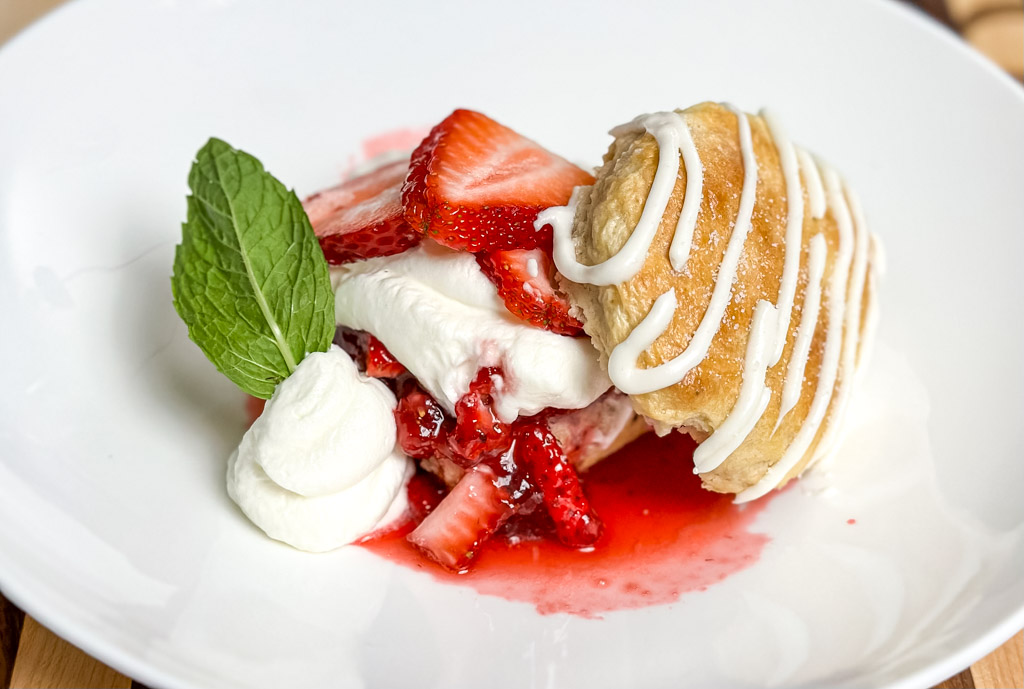 What you will need for this recipe
Strawberries: plump juicy strawberries help make the perfect strawberry syrup for the shortcake.
Biscuits: you will need super cold butter, milk, and flour as the base for these tender biscuits.
Sugar: the sugar helps break the strawberries down into a syrup to create the strawberry shortcake.
Baking Powder: the baking powder gives your desserts a light and airy texture.
Salt: the salt enhances the flavors and balances the sweetness in this dish.
Butter: the butter provides the structure for the dough. You'll need to use ice cold butter to ensure you have layers in your biscuits. If you use room temperature butter then it will make your dough too soft.
Milk: the milk will add flavor to your recipe. You can use either whole milk or 2%. The more fat the milk contains the richer the flavor it will give to your dessert.
Orange Juice: the orange juice acts as a marinade for your strawberries and will bring out all the sweetness for your topping.
Whipped Cream: this is the perfect garnish for a light, airy dessert. You can always make your own with heavy whipping cream if you prefer.
How to make strawberry shortcake with biscuits
Prepare the strawberries for shortcake
Strawberries are packed with flavor but they are low on sugar. By adding sugar to macerate them they will become juicy and much sweeter. The perfect addition to any homemade dish!
The orange juice will also give them a bit of tang as they marinate in the sugar. It will also help preserve the vibrant red color on the strawberries so that you can save your leftovers!
Homemade biscuits for shortcake
Biscuits are so simple to make but can be tricky. The secret….the ice cold butter and fresh ingredients! You will want your butter to be ice cold when you use it to give your dough good structure and layers.

A great way to prepare it is to use a cheese grater to shave the butter so that you can easily fold it in with the sugar, baking powder and salt.
You will want to keep the dough as cold as possible so that they don't spread and flatten out when you bake them. It is imperative to freeze the dough for at least an hour before you want to bake them.

A great tip is to make the dough a day ahead so that you can prepare the dish easily when you have company.
FAQ
What is strawberry shortcake versus regular cake?
Strawberry shortcake tends to be very flaky and crisp. It almost resembles the texture of a scone. It derived the name "shortcake" because it tends to be less fluffy than a cake. A regular cake tends to be lighter, and have a softer texture.
How do I store strawberry shortcake?
Your strawberry shortcake can be stored in the fridge in an air-tight container for 5 days. Or, you can store them at room temperature for 3 days. Be sure to store the strawberry topping separately from your shortcake so that it doesn't make your shortcake soggy!
Can I use store bought biscuits for strawberry short cake?
Typically, store bought biscuits don't contain eggs so they will be more dense and less sweet. They will also not have as much air in them to give them the right texture for your dessert.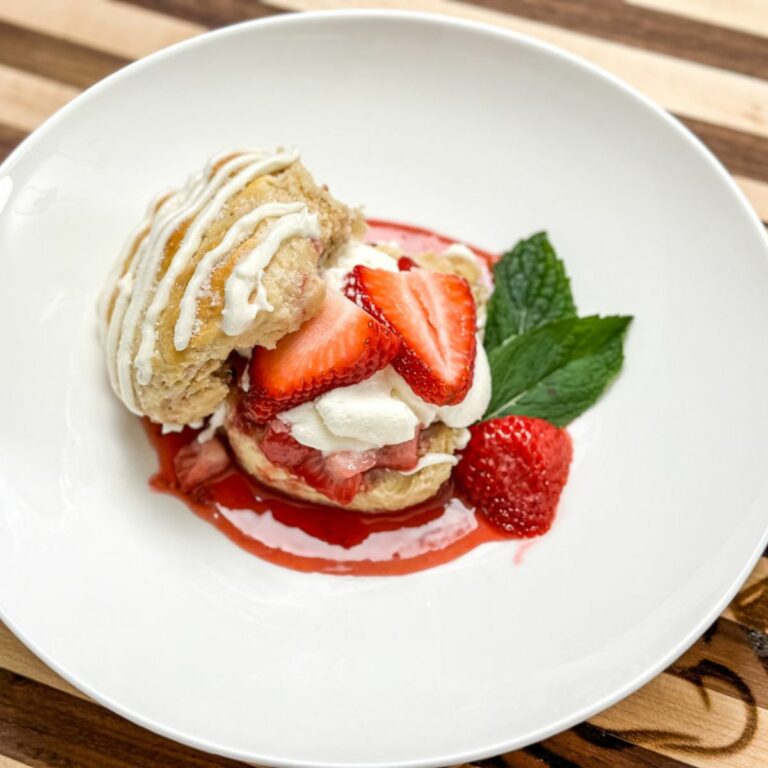 Strawberry Shortcake with Biscuits
A twist on the classic Strawberry Shortcake with biscuits instead of cake! Easy-to-make homemade biscuits serve as the perfect base for juicy, syrupy strawberries, topped with a dollop of whipped cream.  
Ingredients
2

cups

all-purpose flour

3

tablespoons

sugar

divided

1

tablespoon

baking powder

1/2

teaspoon

salt

1 1/4

stick ice cold butter

1

cup

ice cold whole or 2% milk

1

cup

freeze dried strawberries

2

pints

fresh strawberries

chopped

1

splash of orange juice

1-1/2

cups

whipped cream
Instructions
In a large bowl, combine your 2 cups flour, 2 tablespoons of sugar, baking powder and salt. Cut or shred in your butter until mixture resembles coarse crumbs (place butter in freezer 1 hr.

Before prep to keep cold). Next, add in your freeze dried strawberries. Mix well to combine. Gradually stir in milk until a soft dough forms. Drop dough on a floured surface and roll out.

Fold over, then roll out again 5-6 times to make flaky layers.

Use a biscuit cutter to cut out the dough and place on a lightly greased baking sheet. Bake at 425° until lightly browned on top about 12-15 minutes. Remove and cool on a wire rack.

While biscuits are in the oven, place your strawberries, splash of orange juice and remaining 1 tablespoon of sugar in a large bowl and toss gently.

Split shortcakes in half horizontally. Place the bottom halves on your serving plate and top with whipped cream and strawberries. Top with other biscuit half, serve, and ENJOY!
I Hope You Enjoy This Strawberry Shortcake with Biscuits Recipe!
If you try the recipe, don't forget to rate the recipe, and let me know what you think in the comments. Leave a quick review & star rating ★ below! Take pictures, tag #onestopchop, and share them with me on Instagram, Facebook, and Pinterest! I love seeing my recipes come to life in your kitchen!
More recipes to try: